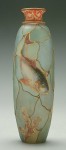 Thanks for visiting our site which is exclusively about Mount Washington glass.  We have guides that will help you identify, authenticate, and value your Mount Washington or Pairpoint glass products.  We encourage you to take advantage of the search feature on our site so that you can quickly find the information you need.
We are experts in the field with years of experience and we would welcome the chance to work with you.  Any information we share is freely given.  We never charge for appraisals or email communication.  Our main focus is buying for both our personal and our clients' collections.  We would be happy to make an offer on any piece of Mount Washington glass that you have.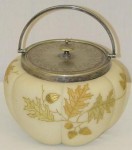 Mount Washington has a long history dating back to 1837.  We specifically focus on the art glass period from 1876 to the early 1900s when the factory in New Bedford, Massachusetts was making exquisite collectible glass.  Please send us pictures so we can begin the process of identifying, authenticating, and making an offer on your glass:  Manning@MtWashingtonGlass.com.